INTERNATIONAL PHD. STUDENTS DAY
---
We would like to invite you to the International Ph.D. Students Day, where the invited speakers will guide the lectures and the students of Ph.D. study program will refer about the scientific results connected to their dissertation work. The International Ph.D. Students Day will be held on the 3rd of December.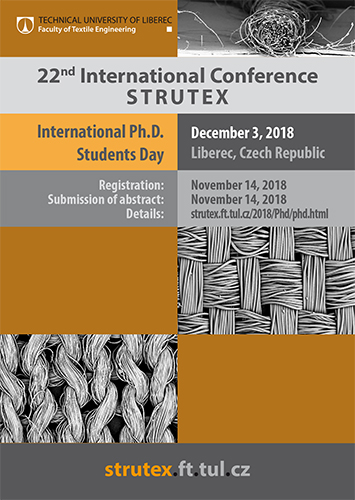 The registration can be done by submission of extended abstract (2-4 pages) using extended abstract and full paper template of a STRUTEX conference untill 14th of November 2018 (http://strutex.ft.tul.cz/2018/Paper/paper.html).
The registration and extended abstract submission for this event is realized via email to main coordinator Pavlína Bílá (pavlina.bila@tul.cz).
The presentation of student's work will be done by the poster and short 5 pages ppt presentation. The details will be specify to registered authors via email and web sites soon.
Best papers will be awarded by the committee, which will be established from the distinguished guests invited to the conference.
The number of participants is limited and therefore the early bird registration is recommended. The presentation of SGS projects will be preferred.
Programme STRUTEX 2018 International PhD student day
Book of extended abstracts STRUTEX 2018 International PhD student day
GALLERY
---